Thursday, 28 August 2003 00:00
Following their recent huge success in the US, Loreto College Kenpo Schools, Dublin, held a presentation night to express their thanks to their sponsors. The group's latest and newest supporter is the mobile giant O2, a hugely successful company which backs some of the biggest names in Irish and international sport.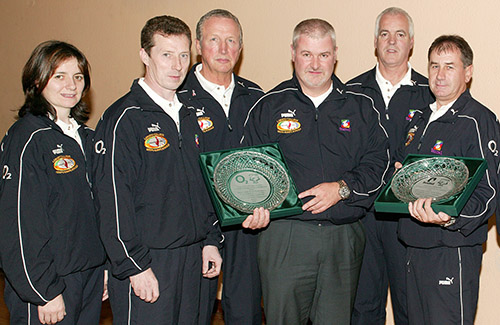 Malcolm Donellan, O2's representative, echoed the need for sponsorship in sport and was "very proud to be involved in creating a bond at such a local level." Loreto's existing sponsor of several years, Beaumex, also supported the group this year. Cathal Tully, of Beaumex, said he was delighted to be involved in Loreto's success and pointed out that "although sponsorship is important it cannot buy success; whereas skill and dedication can." He added that he was "delighted to see so many young people involved in Karate today."
Both sponsors were astonished at the tally of 135 trophies which were won by the students at this year's Boston International Karate Championships. On behalf of Loreto's instructors and students, chief instructor Alan Corrigan thanked the two sponsors for their support and presented Donellan and Tully with pieces of handcrafted Galway crystal. Corrigan also thanked Tesco, Jervis Street, for their support again this year.