Tuesday, 16 May 2006 01:00
Loreto College Kenpo Karate Schools recently graded one of its longest serving members Damien Tully to the rank of 1st degree Black Belt. Tully who was graded by the American Kenpo International Senior Council - President Tony Cogliandro, President of the Board of Directors Don Rodrigues, European Senior Council Directors Maurice Mahon, Shay Paget and Barney Coleman. The panel also consisted of AKI Senior Council members Mr Alan Corrigan, Mr Dermot O'Reilly, Ms Freda Roberts. Other notables present included Mr Martin Carey and Mr Eddie Cummins.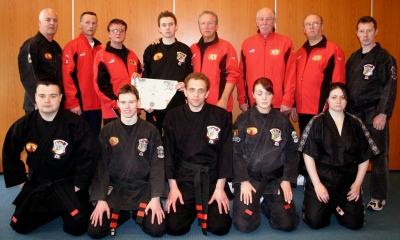 This executive panel consisting of 15 members put Tully through his paces performing all the required sets, forms and techniques of Kenpo. The final part of the test was free-style sparring where the candidate was required to defend themselves against a number of single and double attackers. After a number of consecutive bouts a power break was performed on a number of root tiles.
Tully who has been 13 years in Kenpo has always travelled away with the club to European and International Championships and won. Instructors Alan Corrigan & Dermot O'Reilly recalled the day 13 years ago when Tully arrived at a young age in the club seeking to train. His journey began from the junior class to now where he stands as one of the few remaining individuals that progressed from the junior class.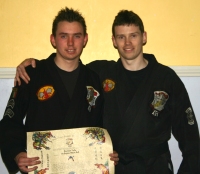 Tully
who is a regular competitor and has numerous International and European titles accredited to his name commented that "This is a milestone for me and is a very proud moment that will live in my memory for a long time too come".
Also the American Kenpo International Senior Council bestowed the rank of 6th Degree and title of Professor to Dermot O'Reilly and Freda Roberts. In addition Darryl Murray received his 3rd degree Black Belt.
As keeping with tradition Loreto College will hold a special night of presentation and demonstration in the Ringside Stadium in October to celebrate Tully's achievement of Black Belt. Further information regarding tickets will follow.