Thursday, 31 January 2008 00:00
Loreto College Kenpo Karate Schools in Crumlin, Dublin recently held a number of gradings where students were assessed and put through their paces in front of grading examiners which included Professors Alan Corrigan, Dermot O'Reilly and Freda Roberts. Joseph Fay, who has been training in Kenpo for the last 10 years graded successfully to the rank of brown belt. Fay endured a vigorous examination, performing a series of sets, forms and techniques. The final part of the test consisted of a number of freestyle sparring bouts against single and double attackers.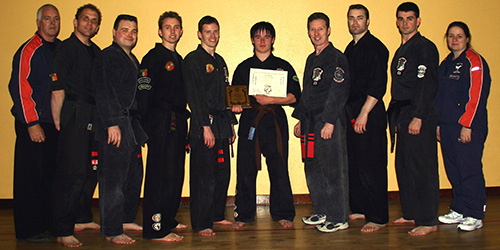 During the presentation of his certificate, Fay was described by Corrigan as being "very enthusiastic." Corrigan added: "Joseph has shown a clear progression since he first entered Loreto College at the young age of five". A thrilled Fay commented: "I love the art and I hope that this represents a stepping stone now for the future and towards my 1st dan black belt."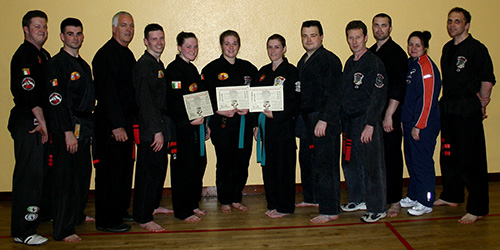 The female trio of Denise Salinger, Ciara Keville and Amy Tully all successfully achieved their green belts after having completed many years of Kenpo studies. The three students, all acclaimed winners on the European and International competition circuit, gave an excellent display of skill and ability and were highly commended by the board of examiners for their polished performances. A pleased Salinger said: "The grade was enduring and tough both physically and mentally but we're all chuffed with our new ranks." Other students, promoted to yellow belt, included Wayne Furlong, Denise Keating and Wille Hopkins.
At the end of a long class Corrigan paid tribute to the newly graded students adding that their "performance is testament to their hard work and commitment put in on a weekly basis."