Saturday, 22 April 2006 01:00
Loreto College Kenpo Karate Schools triumphed at the recent 2006 International Kenpo Karate Championships in Utrecht, the Netherlands.This tournament marked 50 years since the founder of American Kenpo, Edmund 'Kealoha' Parker established the first Kenpo Karate School serving the general public. Dubbed the 'Golden IKC' this event saw Loreto pick up a massive haul of 46 trophies and medals, an impressive feat considering that 23 countries were represented in the competition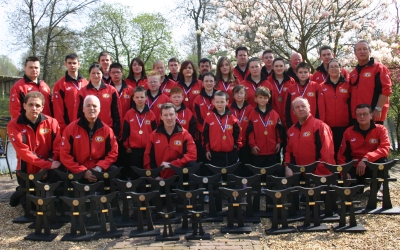 Among the most impressive performers were Erika Hope and Pamela Keating. The former, a white belt competitor, was competing in her first ever championship, and went top of the podium in freestyle and team sparring while Keating followed suit in sparring and added to this a runner-up finish in creative and individual kata. Keating would then with the trio of Wayne Brennan, Amy Tully, Ciara Keville win the team form division. While in the same section the duo of Joseph Fay and Shane Farrell finished runner-up. Farrell was also on form with another runner-up in sparring together with a third in kata. Likewise Fay and Brennan would triumph in the kata section with Fay going on to come first in the sparring section as well. Amy Tully continued her run of good form finishing runner-up in the sparring division and with Keating achieved second in creative. Keville would also prevail in freestyle to go top of the podium.
In the competitive black belt division the trio of Damien Tully, Garbhan Dillon and Jonathan Tully emerged top of the team kata event. The latter continued on to finish second place in a very tough sparring division and narrowly missed out on another second place in the black belt weapons division securing third. In the black belt team division there was a tense atmosphere as the team from Loreto comprising Jonathan Tully, John Bradley and Garbhan Dillon were paired against the USA team in the semi finals. The USA team of Anthony Cogliandro, Sita Van and Luis "Topo" Gutierrez proved to be too much for the Irish and went on to win in the final.
Loreto's juniors also had an impressive day capped off by the fact that this was their first time competing in a championship on foreign soil with many securing trophies and medals. The most successful being Jordon Stobie with two firsts in kata and freestyle while young Daniel Murphy also won first in the kata division with Arron Senior managing third. Other juniors winning on the day included Luke Johnson with a third in kata and second in sparring and Chris Brown with a third and first.
Other winners on the day included Jessica O'Reilly who finished third in the individual kata division and Denise Salinger who in addition to a second in self-defence managed third in freestyle sparring. Loreto's chief instructor Alan Corrigan who still competes on the circuit finished 3rd place in a highly competitive forms division commented "that the competition was very successful and Loreto did extremely well in all divisions across all ages". This was also enforced by Dermot O'Reilly who said, "We [Loreto] picked up a significant amount of trophies and medals and it was a very good but long day"
Also travelling with the Loreto College squad was Martin Carey who emerged as champion in the 40 plus sparring division. Young Lee Carey was also very impressive with three runner-up positions together with a third in the creative division. Meanwhile sister Amy finished a credible third in freestyle and would later with her mother Paula finish top in the team freestyle division. In addition Eddie Cummins and son Lee also travelled with Loreto where Lee earned a first in forms and second in freestyle.