Saturday, 06 May 2000 00:00
Dubliner Maurice Mahon, one of the first Irishmen to receive the rank of black belt in Kenpo Karate, was a special guest of honour at the recent three day 'Jersey 2000', a martial arts spectacular hosted by St. Helier-based instructor Roy McDonald, the International Kenpo Karate Association (IKKA) representative for the Channel Islands.
Mahon - who was one of the first students to enrol at the Fitzwilliam Street Kenpo Club run by John McSweeney - was given the presentation as a unique way of saying thanks for introducing Ed Parker's unique art into the Channel Islands, as it was the Irishman who opened the first Kenpo club there some 33 years ago.
Long time Kenpo black belt duo Barney Coleman and Shay Paget also accompanied their instructor, Mahon. The trio were invited to the Jersey Europeans by the instructors of the Loreto Kenpo Karate Schools, Alan Corrigan, Dermot O'Reilly and Freda Roberts. "We thought, that as we were bringing a large squad anyway, it would be a nice gesture to ask Maurice, Barney and Shay to come along with us, especially as it was Maurice who brought the art to the Islands in 1967," Corrigan said.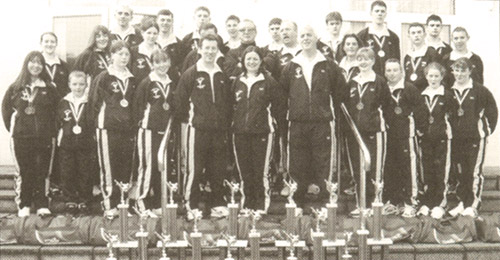 As usual the Loreto juniors and seniors kept up their high standards and at the end of the day brought home a total of 46 awards in various divisions and categories. The Celebration Dinner Dance, at which a number of awards were made, took place in the Royal Hotel. The event was a great success with numerous Irish Kenpo instructors attending. These included: Paddy Kennedy, Jimmy Poland, Tony Dunne, John Ward, John Reddin, Fran Holmes, Aidan Burke, Anthony Bradshaw, and host Roy McDonald, all former students of Mahon, Coleman, Paget and Corrigan.
Mahon received a standing ovation following his presentation, after which Coleman and Paget were also surprised to receive commemorative plaques from Kennedy, who was the first black belt to come out of their famous High Street Kenpo Karate Club in the heart of Dublin's 'Liberties'.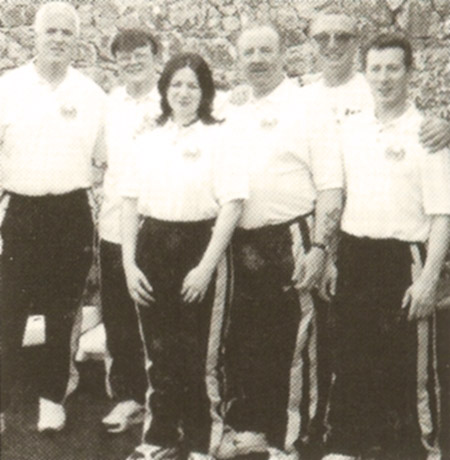 "As the very first High Street black belt, I thought it would be a fitting tribute to make a presentation to Barney and Shay because this year they are actually celebrating the 30th year anniversary of the opening of High Street - and it's still going strong to this day," Kennedy said.
Later in the night, Kennedy, along with host McDonald and Dutchman Hans Hesselman, were presented with a specially commissioned Kenpo drawing depicting a dragon and tiger surrounded by portraits of the late Ed Parker, Leilani Parker, McDonald, Hesselman and Kennedy. The beautiful full colour drawing marked 30 years in Kenpo for the trio.