Sunday, 03 August 2003 01:00
Loreto College Kenpo Karate Schools, Dublin strengthened it ranks recently with the addition of two new black belts to its cadre of instructors. Dubliners Jonathan Tully and Ciarán Roberts both graded recently and were officially presented with their new black belts and 1st dan certificates following their participation at the Maine International Karate Championships in the USA.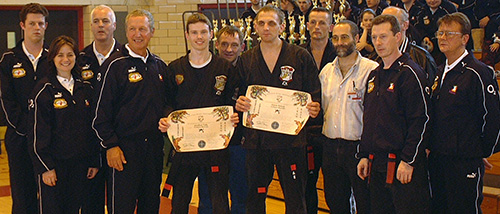 Present at the ceremony were a number of well know names in the Kenpo world, including Tony Cogliandro, president of the American Kenpo International (AKI), Maurice Mahon (president AKI Ireland) and associate masters Shay Paget and Barney Coleman. Also in attendance were the pair's own instructors, Professor Alan Corrigan and Dermot O'Reilly, 4th dan.
Tully and Roberts, who have both been training in Kenpo for 10 years and 12 years respectively, were overjoyed to have reached such a milestone in their martial arts careers and were proud to have tested in front of so many well regarded instructors. Following the presentation of the black belt certificates, the senior council of the AKI presented Mahon with the rank of 9th degree Master of the Art. This occasion has now added a further chapter to the already proud history of Kenpo Karate in Ireland.