Sunday, 30 March 2008 00:00
Loreto College Kenpo Karate Schools in Crumlin, Dublin graded three of its longest serving members when they visited the Channel Islands to take part in the 2008 World Kenpo Karate Championships in Jersey. Jonathan Tully and Ciaran Roberts graded for their 3rd degree black belt while Damien Tully earned his 2nd degree.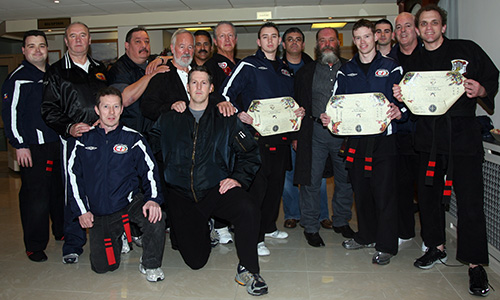 The Loreto trio were conferred with their new rankings alongside their American counterparts under the auspicious guidance of Grandmaster Mike Pick (right with members of Loreto Kenpo). Pick, with fellow American colleagues, paid tribute to the newly grades congratulating them on their hard work, diligence and respect. The head of the Irish delegation, Grandmaster Maurice Mahon, also praised the three students on their performance.
Other prominent Kenpoists pictured, include: Barney Coleman, Frank Trejo, Mohamad Tabatabai, Marcus Buonfiglio, Wes Idol, Rainer Schulte, Alan Corrigan and Dermot O'Reilly. "The bringing together of these Kenpo practitioners wasn't by chance but is as a result of a new alliance involving Tony Cogliandro's American Kenpo International (AKI) and Grandmaster Pick's Universal Kenpo Federation (UKF). Ultimately the most important aspect of this coalition is the transfer of knowledge to the next generations of Kenpo students," Coleman said