Sunday, 03 August 2003 00:00
Students, juniors and seniors, from the Loreto College Kenpo Karate Schools, Dublin, recorded their best ever international performance at this year's International Kenpo Karate Association's (IKKA) International Karate Championships in Boston winning a whopping 84 trophies, many of which were first places world championship titles. The IKKA-sanctioned event was promoted by black belt Doreen Cogliandro.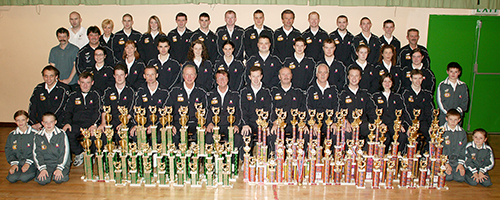 The well contested tournament took place in Revere, Massachusetts and attracted a large Irish contingent, including the Loreto squad headed by 6th dan Professor Alan Corrigan. The Loreto squad consisted of 40 students and instructors, all of whom had previously competed at both national and international level.
"Despite the very strong competition presented by the hundreds of other foreign students, we did better than ever, taking a total of 84 awards," a delighted Corrigan said. Following their outstanding number of wins, the day after the championships the Loreto squad travelled to Maine where they then competed in the Maine International Karate Championships, an annual event promoted by 8th dan Tony Cogliandro, president of the American Kenpo International (AKI) group. Although very tired after the IKKA tournament, and the travelling, students once again performed extremely well and were rewarded for their efforts by clinching another 51 awards. "It's wonderful to travel away with such a fine group of spirited and talented students and instructors," Corrigan added.
"Over the two tournaments I'd seen every club member do their very best and perform to the highest standard. They've all done themselves, and the Loreto Schools, very proud." Other senior instructors who travelled with the squad included Freda Roberts, Dermot O'Reilly and Phillip Curran.