Saturday, 17 October 2009 00:00
Loreto College Kenpo Karate Schools returned recently from competing at the International Karate Championships in Las Vegas, Nevada, USA with more than their fair share of the jackpot. The international event played host to athletes from countries from all over the World including Jersey, Mexico, Greece to name but a few and as usual it was backed with a sizeable Irish contingent.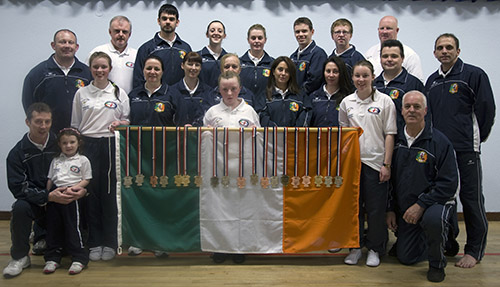 Between them, the 17 man squad - supported by 18 family - brought home a total of 25 medals comprising of: ten gold, nine silver and six bronze. "For a team to travel so far and to do so well is the greatest testament to all the hard work that was put into preparing for the event" said Senior Professor Alan Corrigan, himself a silver medallist in the 5th Degree and above Senior Black Belt competition.
The Neveda event also marked the return to the circuit of long time competitor and champion Freda Roberts, who marked her return with a gold medal in the 5th Degree and above female forms competition. The schools newest black belt Pamela Keating also blazed a trail in the desert winning first place in the female Black Belt 1st to 4th Degree section. Later, she also placed 1st in the team forms event with long-time friend and training partner Ciara Keville, who also won two gold medals in her individual forms and fighting competition.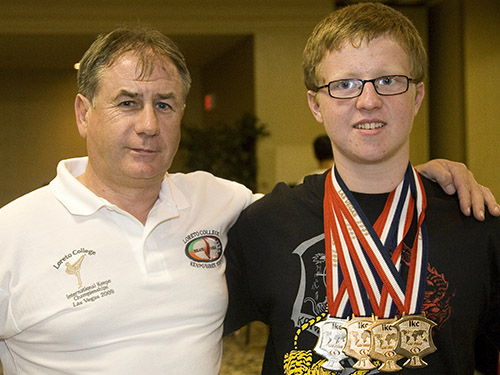 Among the most impressive performers was Daniel Murphy; he won the highest number of awards for the school with an amazing three gold medals and one silver. The later being won in the team forms division with club mate and training partner Kirsty McCarthy, who also won a silver for her weapons form and a bronze medal for fighting. "These two have been training since an extremely young are and are certainly two of the rising stars within the Kenpo ranks and should have long and successful careers ahead of them", senior club instructor Dermot O'Reilly commented.
Other medallists on the day included Jessica McCarthy and Sorcha Grendon both members of Loreto College's junior class. McCarthy won two silver and one bronze medal, while Grendon won a gold and bronze. In the seniors section Denise Keating was a double winner placing second in both forms and fighting, while Aisling Grendon placed third in the same fighting division. In the team forms section Sinead Rooney and Jonathan Tully placed third.
Also present was the squad and schools friend and sponsor Cathal Tully of Beaumex. Mr Tully has always had a fondness for the school and the values it represents. Cathal commented that "We are always glad to support Loreto College Kenpo in their endeavours as they have always been a positive influence on many children in the local area and long may it continue".
The continued success of the school is due to their un-ending dedication of its chief instructors Alan Corrigan and Dermot O'Reilly to provide their students with the highest possible standards in training. These standards are echoed in the growing strengths of all their students.