Sunday, 21 October 2001 00:00
A 32 strong Loreto College Kenpo Karate Schools squad proved to be on top of their game at the recent AKKS 2001 Open European Kenpo Karate championships in Dublin's National Basketball Arena winning no less than 54 awards between them. The Crumlin club fought hard throughout the long day securing 18 first place medals, nine seconds, 20 thirds and four fourth place medals. "Both junior and senior students put a lot of work into the competition and this just proves that dedication really does pay off" Loreto senior instructor Professor Alan Corrigan said.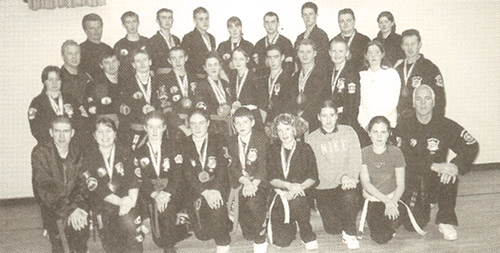 Loreto instructor Dermot O'Reilly commented: "All the instructors are extremely proud of the students achievements. Each year, the club manages wins more trophies than it did in the previous championships - a testament to the level of commitment from all the students." Adam Donohue recorded a triple win taking first in both creative and weapons forms, and third in forms. David Connolly, another triple winner, took first in weapons and forms and runner up in sparring while Derek Hayden placed first in both forms and team form events, along with Richie Gordon and David Bradley. Meanwhile, Denise Salinger took another gold in creative forms and self defence section, second in teams forms (with David Connolly and Damien Hayden and third in sparring).
Jessica O'Reilly came out on top in her forms competition and added a third in self-defence while Damien Hayden placed first in sparring and third in forms. Peter Kinsella won first place in sparring and fourth in forms. John Bradley placed second in musical forms and third in both sparring and team forms with Jonathan and Damien Tully. Later Jonathan Tully won again, taking runner up spot in forms and third in creative forms. Not to be out done, Damien Tully went on and took fourth in creative forms while David Bradley won second in forms. Richie Gordon won two thirds in forms and sparring while Darryl Murray placed third in forms and creative forms. Joanne Kelly placed third in sparring, as did Kate Ohle in forms and Keith Crosbie in forms. Loreto College instructor Freda Roberts won gold in mixed forms and third in women's forms while Corrigan was Runner up in male forms.
Juniors also shone as Shane Farrell took first in team forms with Connor Murphy and Daniel Cleary, and second in forms. Pamela Keating recorded a double win with a first in sparring and fourth in forms while Natalie Kelly clinched first in forms and third in team forms with Michelle Mc Guinness and Amy Tully. Finally Connor Murphy placed third in forms; Lyndsey Higgins secured third in sparring and Sinead Keating and Michelle Mc Guinness both placed fourth in their form categories.