Saturday, 19 March 2005 01:00
Once again Loreto College proved to be unstoppable in their continual International success with an amazing tally of 42 trophies at the 2005 Larry Tatum World Championships in Dublin's National Basketball arena. Success was emulated through all the ranks and right down the ages from young juniors to experienced seniors. There were some intense and hard fought battles on the day but a number of students prevailed against the odds.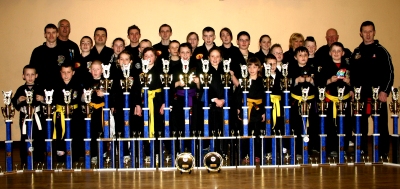 While Lee Murray and Eva Dunne were notching up 3rd place finishes in the forms division Luke Johnston secured a big first place. For Hannah Byrne it was a 1-2 in forms and fighting. But for little Jordan Roe it was a day not to forget after a blunder in the scoring young Roe was eliminated from the fighting although he never lost any fights. The officials then realised their mistake and distraught Roe quickly recomposed himself to take first place. Earlier that morning he also succeeded in the forms divison and was placed first. Tom Lachiff came 1st in forms and 2nd in fighting while his sister Sarah came 3rd in fighting. The Dimov family also achieved similar success with Ivan and Nicolai coming 3rd in fighting. Likewise both Nathile and Stephen Gerathy came 3rd in fighting. The trio of Derek Hickey, Joseph Fay and Shane Farrell swept the judges of their feet and received a first place in the team forms division for their efforts. Other notables on the day included double winner Lauren Brown and Daniel Murphy while Lee Carey managed an exceptional two 1st places and a third in weapons.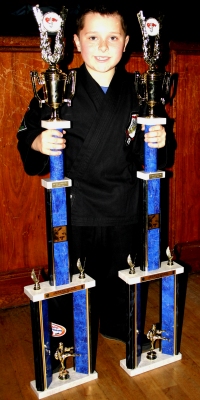 Whilst the juniors were victorious, the seniors performed with pride and had multiple winners ranging from
chief Instructor Alan Corrigan's
1
st
in forms and 2
nd
in fighting while Martin Carey also recorded a respectful 2
nd
in the same forms division. Denise Salinger and
Jessica O'Reilly
were both triple winners on the day. Salinger came a stunning 1
st
in fighting, 2
nd
in forms and 3
rd
in the creative division. Likewise
O'Reilly
came an awesome 1
st
in forms, 2
nd
in team fighting and 3
rd
in fighting. More winners on the day included Amy Tully who notched up a first in forms and 3
rd
in fighting while Sinead Keating secured 1
st
in the forms division. Both Ciara Keville and Wayne Brennan came 3
rd
in forms while Paula Carey finished 3
rd
in fighting. Confusion arose in the black belt team forms division as the team combo of
Jonathan Tully
,
John Bradley
and
Damien Tully
were declared winners but later in a great act of friendship and sportsmanship they allowed their Spanish compatriots to enter the event despite them having missed the event call on three occasions. A showdown prevailed where in a tough battle Loreto held on and were declared winners once again.