Saturday, 29 March 2008 01:00
Loreto College Kenpo Karate School in Crumlin, Dublin recently competed in the 2008 World Kenpo Karate Championships in Jersey with great distinction picking up a massive haul of 38 trophies and medals at the championships. This was an impressive feat considering that close to 1,000 competitors from 24 countries were represented in the competition.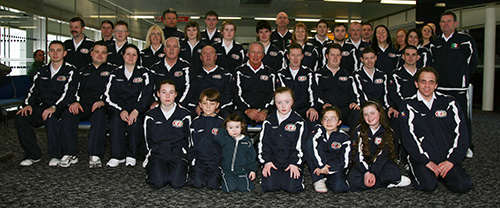 The tournament marked 40 years since the introduction of Kenpo Karate by Dublin Black Belt Maurice Mahon to the island where it is now thriving. Mahon, who is now a Grand master of Kenpo Karate was one of the first black belts ever in this country dating back to 1965. He moved to Jersey for a number of years where he established a club.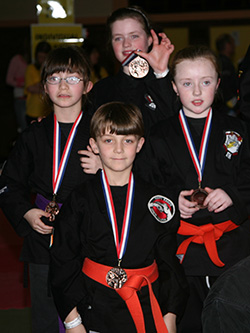 Chief instructors Alan Corrigan and Dermot O'Reilly headed the Loreto squad. Among the most impressive performers for the South Dubliners were Daniel Murphy and John Lynch. The former, a junior green belt went top of the podium in the Weapons and team kata division, alongside club mate Kirsty McCarthy, while winning second in the individual kata section. Mc Carthy came second and third in the team sparring and individual sparring sections. Her younger sister, Jessica was also victorious on the day, winning first and third in the individual and team kata sections. Meanwhile, John Lynch followed suit in the sparring section where he fought a number of enduring battles to earn top spot. He also came first in the team kata division alongside club mates Ciara Keville and Shane Farrell. "This was a remarkable accomplishment given that this is John's first competition in over 12 years," coach Corrigan said. Meanwhile, the Keating siblings, Shelley and Denise, also showed enormous courage and potential when they finished joint third in sparring in what was their first ever competition.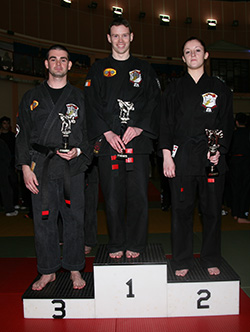 An impressive display of excellence was witnessed in the hotly contested Black Belt kata division. With over 80 black belts competing, Loreto College secured a remarkable 5 out of the 6 places in the individual kata division with chief instructor Alan Corrigan finishing second and senior instructor Darryl Murray third. In the lower 1st to 2nd degree Black Belt section Jonathan Tully, Sinead Rooney (Firhouse School of Kenpo) and Garbhan Dillon finished an unprecedented first, second and third respectively. Subsequently, in the team kata division Dillon with Tully alongside fellow brother Damien took third spot.
Loreto's latest success is not surprising given the dedication of its chief instructors Alan Corrigan and Dermot O'Reilly. During the years running the club, they have helped the members to achieve very high standards. To date the school has turned out numerous Black Belts and countless numbers of other coloured belt ranks. The club is now looking forward to a number of future competitions, including the 12th Irish Cup at the National Basketball Arena (NBA), Tallaght.
They have also received invitations to Budapest, Hungry, for the 13th Hanshi Cup and to Hermosillo, Mexico for the Ironman championship. Both of these competitions will take place later this year.
The club will also be travelling to the World Championships in Las Vegas in October 2009.