Saturday, 15 May 2004 01:00
Once again students and instructors from Loreto College Kenpo Karate Schools scooped top honours at the 2004 European International Kenpo Karate Championships in the National Basketball Arena, Dublin. The IKKA sanctioned event is one of the biggest on the Kenpo calendar this year and attracted a number of competitors from the UK, US, Mexico, Jersey and continental Europe. In addition a strong national representation from various clubs was evident. Also in attendance on the day was one of Ireland's première black belts 9th degree Maurice Mahon. Mr Mahon has instructed several prominent Irish black belts including Shay Paget, Barney Coleman and some high ranked European instructors such as the Jersey based Roy MacDonald. Most of not if all instructors/competitors owe their origin either directly or indirectly to Mr Mahon. The day proved to be a huge success, with 45 trophies and medals won in various divisions.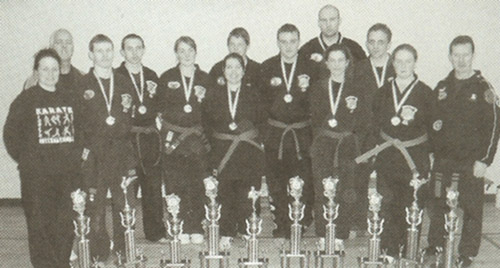 Loreto's triumph was emulated down the ranks from senior instructors to young juniors. At the top of the ladder, senior instructor 7th dan Alan Corrigan performed his rendition of long form six that earned him top spot in the forms division consisting of 5th degree and above, while behind in third spot was the sole women's competitor Freda Roberts. Later in the day Roberts went two places better in the women's form division attaining a first and adding to her already increasing tally of International and European titles. Club affiliate Martin Carey still showed his competitive strength winning the senior black belt 40+ sparring division. The senior brown belt forms division was highly contested and won by Jessica O'Reilly with Damien Tully in third. Recently promoted 1st Kyu brown belt John Bradley narrowly missed out in the forms division but went on to record a very credible third place in the senior heavyweight sparring division. The team of Denise Salinger, Edel Quinn and Richard Gordon proved to be very effective with a victory in the team form section. Later Salinger rose to the occasion and went on to secure a first in sparring and a second in form. Other performances by Tully and Quinn earned them second and third in the creative and forms divisions. While a strong performance was put in by Paula Carey earning her a third place in the female sparring division.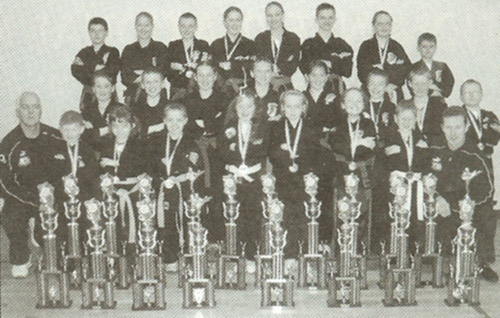 Meanwhile Loreto's juniors were also very impressive on the day with many double winners such as Natalie Geraghty first in sparring and third in forms; Joseph Fay first in weapons and second in forms and Tom Lahiff with an incredible first in forms and sparring. The day also witnessed Derek Hickey and John Enwright showing their talent with third in forms. Both young Luke Johnson and Daniel Murphy finished the day in style with firsts in forms. But top honours must go to green belt Sinead Keating who finished an immaculate first in three events. Along with club-mates Pamela Keating and Wayne Brennen a first place was recorded in the team form category. Brennen also competed strongly in the other events finishing second and third in forms and sparring respectively. The female duo of Lauren Browne and Claire Nolan demonstrated their force in the sparring section with a third and second place finish. Other notables on the day included Aaron Senior second in form and Lee Carey third in the junior black belt forms event. The club is now in preparation for their defence of the Irish Cup that takes place later on in the year.