Saturday, 04 July 2009 09:00
Loreto College Kenpo Karate Schools chief instructor Senior Professor Alan Corrigan recently represented his school and country at the 2009 Gathering of the Eagles in Illinois, USA. The four-day event in Chicago - organised by the famous Tracy Brothers, Al and Jim - is held every two years and hosts some of the world's most respected Martial Arts Instructors who teach seminars over the course of the weekend.
The line-up this year included names such as Joseph Simonet, Addy Hernandez, Ted Sumner, Bart Vale and George Lim. Professor Corrigan and his senior instructors, Masters Shay Paget and Barney Coleman were included on the instructor card, teaching various aspects of Parker Kenpo.
Professor Corrigan's seminar focused on precision by utilising grafting of one technique to another to illustrate the importance of precise targeting when mapping the body with our techniques. Professor Corrigan was aided by two of Loreto College's longest-standing senior instructors Mr Jonathan Tully and Mr John Bradley, both of whom have won countless titles and are well known for their abilities and their dedication to the promotion of Kenpo.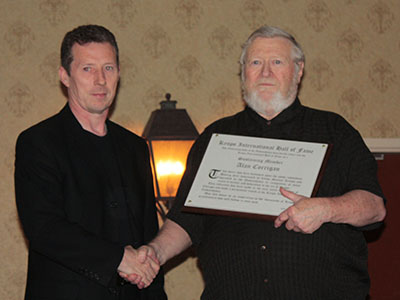 "It was a great buzz for the three of us to showcase Parker (Loreto College) Kenpo to such a wide audience and be so well received. The skill on display here is always of the highest calibre and we look forward to another visit," Corrigan said. Professor Corrigan was also inducted into the Kenpo International Hall Of Fame alongside fellow Irish Kenpoists Professors Paul Coleman and Alan Kenny of American Kenpo International (AKI). Also receiving this honour were William Dawson and Professor Dave Quinn of the Irish Karate Association (IKA). Finally, Kenpo black belt instructor Peter Coyle was made a member of the governing body of the Yudanshakai.