Tuesday, 08 September 2009 00:00
It was an event filled night recently when veteran Loreto College Kenpo student Pamela Keating graded successfully to 1st degree black belt at her club in Crumlin, Dublin recently. A long time martial artist Keating began her training in 1997 at just six-years-old and has trained relentlessly ever since.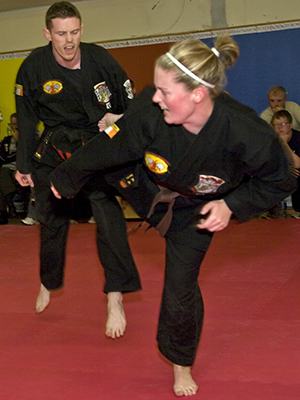 Her attendance and dedication to the club is second to none. At age 10 the eager Kenpo student began supplementing her training in the junior class by joining the senior class before eventually moving full time into the senior sessions.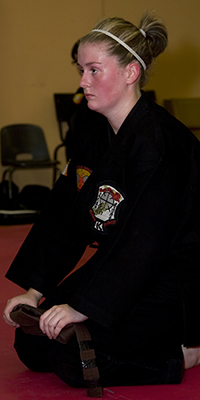 During the test, Keating demonstrated and applied multiple techniques from the yellow belt syllabus through to purple belt extensions. She also performed numerous forms and sets required for 1st degree - during which several spectators noted the maturity and attitude evident in everything she did. She not only had power but also the attitude required for the coveted grade.
Freda Roberts, one of Loreto College's senior instructors, said "It's no surprise that Pamela excelled in the grading as she has worked harder than ever in the last 2 years and on the night in question she made the exam look easy". The new black belt's devotion to Kenpo in the many international competitions she has entered over the years. She made her international début in Jersey in 2000 and got her first international medal with a third place. With her appetite whetted, she followed this up with victories in Plymouth, Holland, Boston, Maine and Jersey again capturing six first place trophies, five second place trophies and four third places. If anyone was in any doubt as to how she would perform as a black belt the recent Las Vegas International Karate Championships was a coming of age at black belt level.
In the early part of the day Pamela and her team mate Ciara Keville swooped in and won the team forms. On a more impressive note she performed a truly stunning 'form 6'; securing first place in the hotly contested 1st - 4th degree forms competition. "Form six is a 3rd degree form. Pamela's attitude on the day was a tour de force for the judges and spectators who witnessed it." Roberts added.