Friday, 22 June 2007 01:00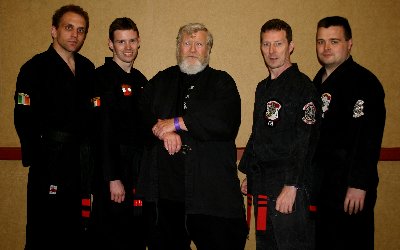 The squad comprising of Alan Corrigan, Freda Roberts, John Bradley, Jonathan Tully, Ciaran Roberts, Pamela Keating and baby Meghan. The event hosted by Al Tracy was a two-day affair featuring over 50 seminars and allowed for the integration of Martial Arts finest Masters to exchange ideas and knowledge. The Tracy brothers, Al and Jim, were some of the first students to train and grade to black belt under Senior Grandmaster Ed Parker (the founder of American Kenpo). Al Tracy opened the impressive list of seminars by giving a charming account on the history of Kenpo from James Mitose to the Modern Era. This left no one in any doubt about Al Tracy's extensive knowledge on the origins of Kenpo Karate and its development to the present day.
Next up was a seminar hosted by Joe Simonette and assisted by Addy Hernandez. The seminar was highly entertaining due to Simonette's sense of humour, his interaction with the group and his application of several lock flow techniques. After that was a seminar by shootfighting champion Bart Vale who ably demonstrated several ground fighting techniques. Tom Saviano followed Bart Vale demonstrating his Tiger and Crane Strikes. It should be noted that Saviano graded to Black Belt under John McSweeney - the same man who was responsible for the introduction of Kenpo Karate to Ireland. Another seminar hosted by Hawaiian George Lim demonstrated the importance of target areas when applying Kenpo style techniques. His power, accuracy and speed left many in awe when one looked at the small stature of the Hawaiian. Other notable seminars included Dave Simmons who highlighted Dynamic Kenpo and Ted Sumner who in a two part seminar showed the healing arts of Kenpo.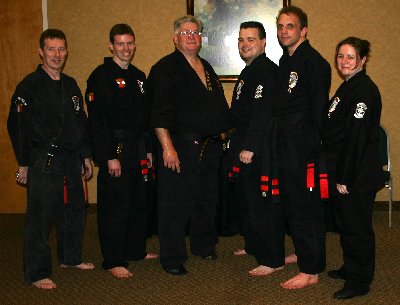 Following the seminars was the Kenpo Hall of Fame Awards, which were presented at a lavish awards banquet. It was during this ceremony that Kenpoists Maurice Mahon, Tommy Jordan, Barney Coleman, Shay Paget, Peter Coyle and James Rice all received awards from the Kenpo Yudansha and subsequent induction into the Kenpo Hall of Fame. As one Kenpo peer commented on the level of respect within and between different people from the Kenpo community. This was definitely evident when Tom Saviano and Al Tracy accompanied by Becky Mornar and Greg Mathis traveled across the Atlantic to teach a series of seminars in Ireland on the 6th and 7th October.
In another special awards ceremony at the Royal Dublin Hotel Mahon, Jordan and Coyle all got presented with their tenth degrees for their contribution to Kenpo. Also promoted was Shay Paget to ninth degree.
The bringing together of key Irish Kenpo Stalwarts and Kenpo legends such as Al Tracy not only provides a valid link to the past but it can only strengthen and grow the Irish Kenpo Community for future generations of Kenpo students.