Thursday, 01 November 2007 00:00
Firhouse Kenpo Karate Club recently witnessed the examination and promotion of long-time student Sinead Rooney to 1st degree black belt at their club in Tallaght, Dublin. Rooney embarked on her Kenpo career in February, 1998 at the age of 11 while playing basketball at the Firhouse Sports Complex. Her fascination with Kenpo quickly developed watching the students in their black suits and coloured belts, and pretty soon she was devoting her time to Kenpo training, ceasing participating in other activities such as Irish dancing, drama and basketball.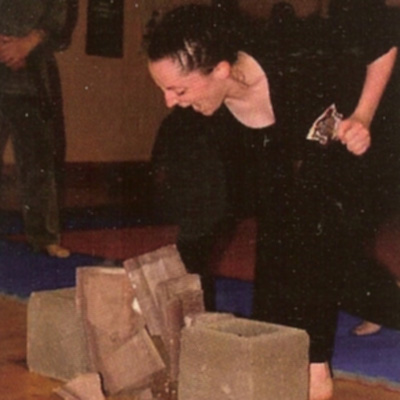 Over the years, under the guidance of club chief Instructor John Reddin, Rooney competed and won at various international events such as the 'Worlds' in Utrecht and Boston. Her most recent win to date was a very credible second place in the black belt forms division at the 2008 World Kenpo Karate Championships in Jersey, where 70 individuals competed. A thrilled Rooney admitted: "I really enjoy learning and performing kata and I find the challenge of achieving a harmony of power, accuracy, speed and fluidity really intriguing".
At her grading, in front of a panel of examiners comprising well know black belts such as Barney Coleman, Alan Corrigan, Freda Roberts, John Reddin, Finn Ryan, Darryl Murray, Jonathan Tully, John Bradley, Paul McGovern and Paul Lynch, Rooney underwent a rigorous examination that saw her execute all the required forms, techniques and sets followed by single and double person sparring. To finish she performed a powerful break on a number of tiles.
Afterwards, 8th degree Coleman commended Rooney on her tremendous enthusiasm, skill and fighting spirit and congratulated her on behalf of the American Kenpo International (AKI). She later paid tribute to the panel of examiners, each of which she feels has contributed to her success and given her inspiration in the art. "In particular a big thanks to my instructor John Reddin and Alan Corrigan and his Loreto Kenpo Karate Club, especially Jonathan Tully for his extra time and effort," Rooney said.
"This grade signifies the start of my unending Kenpo journey. I'm looking forward to future training and knowledge." Aside from her interest in Kenpo, Rooney is currently studying for a Psychology degree at Trinity College Dublin and is aiming to have a successful career in Sport and Exercise Psychology.