Tuesday, 27 October 2009 00:00
It was a double celebration recently for Kirsty McCarthy and Daniel Murphy of Loreto College Kenpo Karate Schools when the pair graded successfully to brown belt level at their club in Crumlin, Dublin.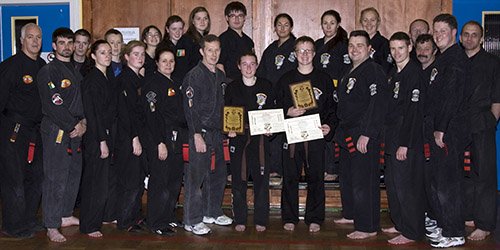 They each began their training in Loreto College's Junior Class before graduating to the senior class. McCarthy (16) and Murphy (14) have been training partners a number of years now. Despite their young age, they have an amazing 20 years combined training in Loreto College, which is an incredible amount of time for anyone that young.
Both individuals travelled recently to Las Vegas, Nevada and secured an unprecedented seven medals between them. Murphy won gold in forms, fighting and weapons; he also secured a silver medal with Kirsty in the team. McCarthy also placed second in weapons and third in fighting. Shortly after their return the pair graded to 3rd kyu brown belt.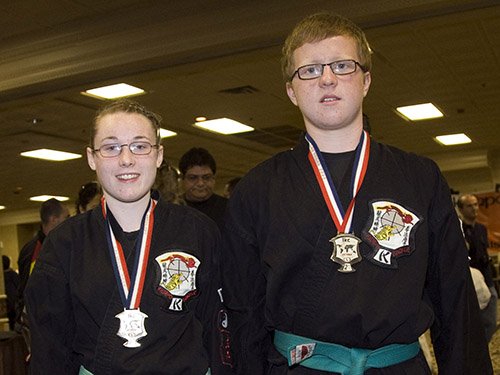 In the build up to the grade both individuals began training additional nights every week. On the night in question neither party disappointed and they began their grading with a fantastic demonstration of how Kenpo forms should be displayed highlighting stances, timing, co-ordination and power.
To follow this, both individuals executed a number of self-defense techniques; and from their reactions of thier 'attackers' you could see the techniques really worked.
Despite their youth neither person got off lightly in the fighting when they squared off against a number of seniors, including the black belts, in multiple single and two man bouts.
The pair showed they had the heart and courage to defend themselves against some bigger and more senior opponents. The dynamic duo finished off the grading with a power break to the delight of the class and a number of supporters and spectators.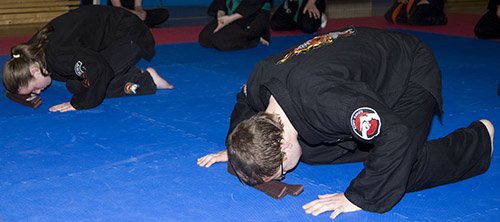 At the end of the grade, Chief Club Instructor Alan Corrigan commented that "Its great that Kirsty and Daniel have trained continually over the years. In this day and age to see dedication like that is rare. Now they have to push for the bigger goal of black belt which hopefully should not be too far away if they keep going as they are".