Written by Mick McDonnell Saturday, 26 April 1997 00:00
Some thirty members of Loreto College Kenpo Karate Schools recently returned from Amsterdam, where they competed in the European Championships. Competition, from all over the world, was intense at the three day event, but the students (some as young as 12) acquitted themselves well, bringing home five European championship titles and a plethora of medals from the numerous events.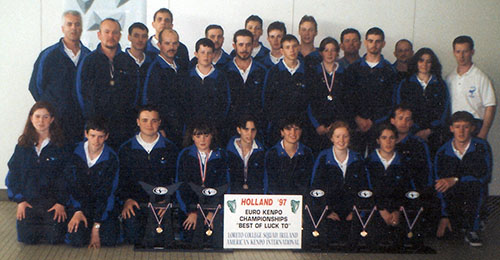 Apparently so many awards were won that the organisers actually ran out of medal and some of the Loreto team are awaiting theirs in the post. All the members hail from this area, which shows what diverse talent we have here on our own doorstep. Run by Alan Corrigan, who holds a fourth degree black belt (for the lay person, that refers to a grade three belts above the coveted black belt!), the club has been based at Loreto College for more than twenty years, and is very much a part of the community. If you're interested in learning a useful skill in a safe, controlled environment, or would like your children to be taught to defend themselves in an increasingly dangerous world contact Dermot O'Reilly at 4532368, or Ms Freda Roberts at 4560016.
Classes are run on Tuesdays at Loreto College, Crumlin Road, 6.30 - 9.00, And at the Marist National School on Clogher Road from 6.30 on Thursdays.