Friday, 01 June 2001 00:00
Loreto College Kenpo Karate Club, Dublin, gained it's newest black belt recently when 18-year-old Darryl Murray successfully graded for his 1st degree at the group's club in Crumlin. Murray displayed his skills in front of a prestigious panel in order to achieve the grade. Loreto College senior instructors Professor Alan Corrigan and Dermot O'Reilly were accompanied by Senior Professors Shay Paget and Barney Coleman.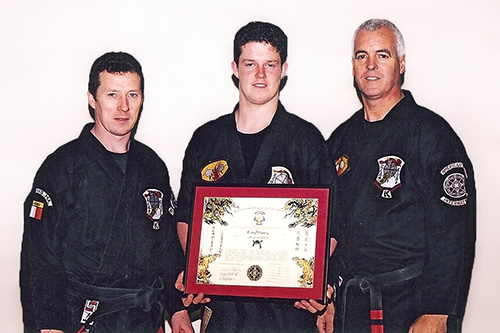 "I was very nervous grading in front of Barney and Shay," Murray said. "I've admired them both since I was very young and to successfully gain my black belt in front of them was a real buzz." Murray's nerves held strong as he battled his way through the grade performing over 200 techniques, a dozen sets and forms, topped off by some very gruelling sparring. "Darryl performed so well he made it look like a demonstration instead of an examination" said one member of Loreto College who observed the proceedings.
In true Loreto College style a Black Belt Presentation Night was held in honour of the new 1st dan at the Ringside Club on Dublin's South Circular Road. The celebration was attended by over 200 guests who were treated to a martial arts demonstration which entertained everyone. The night's event began with the awarding of the black belt to Murray as well as a presentation of a samurai sword in acknowledgement of his 12 years of dedication.
After the demonstration there was plenty of food and dancing into the small hours of the morning. "A new black belt isn't something that a club gets every day. It's too special an occasion to just pass by without celebrating it properly", said Loreto College's Professor Alan Corrigan.
At the end of the night Murray went on to thank his instructors saying: "I owe Alan (Corrigan) and Dermot (O'Reilly) a lot; they've taught me since I was six-years-old and I hope someday I can achieve all that they have accomplished." Murray also went on to thank Paget and Coleman, instructors at the famous High Street Kenpo Karate Club, in the Liberties, for taking the time to observe his grade.