Tuesday, 12 December 2006 00:00
Loreto College Kenpo Karate Schools recently held a number of high profile gradings where juniors and seniors were put through their paces. Seniors John Bradley and Jessica O'Reilly both graded successfully for their 2nd degree black belt in front of a seven-person strong panel headed by Loreto chief instructors Alan Corrigan and Dermot O'Reilly and also featuring well known Dublin based Kenpo exponent Barney Coleman, (vice-president of the American Kenpo International in Europe).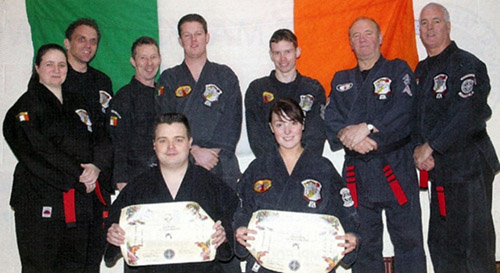 Bradley and O'Reilly, who have over their years of training, made their mark in Kenpo went through a rigorous gruelling examination of the mental and physical concepts surrounding Kenpo. Both showed exceptional knowledge of Ed Parker's principles and concepts pertaining to the various forms and techniques.The grading panel complemented both students on their advanced knowledge and sharp execution of both forms and techniques.
A frequent winner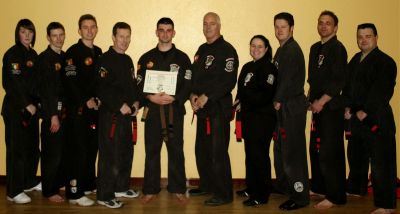 Other high rank gradings included Garbhan Dillon who graded to 1st kyu brown belt. Dillon who has been training diligently for 12 years is now focussing on the prospect of achieving a black belt. A member of the Loreto College fighting and kata teams, Dillon is a frequent winner at European and World Championships.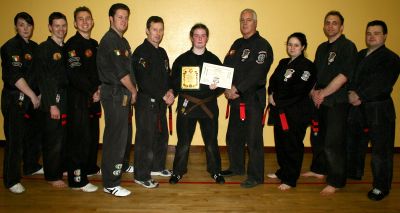 Also promoted was 16-year-old Pamela Keating who achieved the rank of 3rd kyu brown belt. Keating, training for the last 10 years, has grown to be a fierce competitor and has many accolades attributed to her despite her young age. Keating commented after the grade that: "Joining at the young age of six was the best thing I've ever done". Her goal is now aspiring to achieve the ever important black belt grade in the near future.
The grading panel all complemented Keating on her grade and said this "represents a huge leap for her now entering the senior ranks of brown belt." A number of juniors also tested for grades. These include Daniel Murphy, Erika Stobie, Hannah Byrne and Tom Lahiff, who all successfully graded for the green belts. Chief instructors Corrigan and O'Reilly added: "All of the recent grades are a significant step reflecting the knowledge, time, and hard work that our students regularly give week in and week out."