Tuesday, 21 December 2004 01:00
Loreto College Kenpo Karate Club recently bestowed the honour and rank of senior black belt to two of its longest serving members. Jessica O'Reilly and John Bradley are the two newest ranks that underwent the complicated examination of black belt. The test lasted several hours and consisted of a rigorous physical examination in Kenpo that included a large numbers of sets, forms and techniques. The successful pair then took part in a number of consecutive sparring bouts. When the sparring ended the grading panel retired to discuss the examination and make any comments.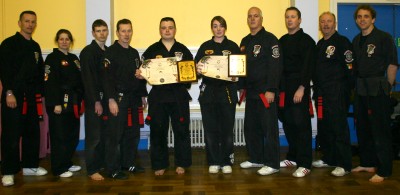 For anyone that was present during the test the outcome wasn't a surprise. Alan Corrigan, senior professor and instructor had the honour of announcing the positive result. But before doing so both still had to complete the test by performing a power break on numerous roof tiles. This was made look easy and then finally both were presented with their long awaited black belts and a specially commemorated plaque to mark the occasion.
O'Reilly and Bradley, who have a combined 25 years experience surpassed, the test with diligent remarks from the grading panel. "The superior calibre witnessed here tonight is a credit to all the instructors involved", Corrigan said. "It also demonstrates the unique standard upheld at Loreto College. Both Jessica and John have been recognised, as a new evolving era of black belts that will undoubtedly take Kenpo forward into the future. They are both regular keen competitors who rarely go home empty handed".
O'Reilly is a triple time world champion following her success at the IKC Boston Kenpo Karate Championships where she managed to take home a stunning 5 trophies. Likewise, Bradley has numerous awards in fighting, form and self-defence at national and international level. After the grading Bradley commented, "The black belt grading was gruelling, one of the toughest mental and physical tests I have encountered, but I enjoyed the experience thoroughly.".
He then went on to pay tribute to the students and instructors "I owe a debt of gratitude to the instructors and students of Loreto who gave their time and experience to get me to this level. All the training leading up to the test helped expand my understanding of the art exponentially and opened my eyes to how much more to Kenpo there is to discover".
O'Reilly said "I was obviously nervous in front of such a distinguished grading panel of Shay Paget, Barney Coleman, Alan Corrigan and Martin Carey - but most importantly, my father Dermot O'Reilly". Dermot O'Reilly a 5th dan, is a well respected and long time Kenpo exponent. Under the guidance of her father who was responsible for her starting karate, O'Reilly still uses her father as a role model for remaining in kenpo.
Corrigan remarked "both students have undergone an intensive training regime leading up to the test and this is certainly evident" The addition of a further woman black belt will certainly please Loreto's Freda Roberts who added that "Another female black belt is always encouraging to see in the arts given that for a long number of years it was largely a male sport". There will be a night of presentations and demonstrations in the Ringside Club, at Dublin National Boxing Stadium, in April, 2005 to mark both students accession to black belt.