Saturday, 08 May 2010 21:00
There is a long-standing tradition at Loreto College Kenpo Karate - when a new Black Belt is promoted there is night of celebration to commemorate their achievement. In keeping with this tradition, on May 8th 2010 we will be celebrating the achievements of Ms Pamela Keating and Mr Richard Lennon our newest 1st degree Black Belts.
On the night they will be presented with their grades after a spectacular demonstration by the Loreto College Kenpo Karate Instructors. The remainder of the night will continue the celebratory mood with dinner, drinks and dancing.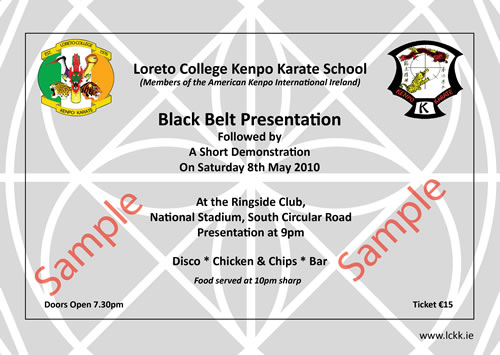 All are welcome to attend and tickets are available from Loreto College Kenpo Karate. Please feel free to contact us to reserve your ticket.
We hope to see you there for what is sure to be a completely enjoyable night.