Thursday, 01 March 2007 01:00
Staring, lost in this simple photograph, I imagine that this is what the eyes of the Samurai of legend must have look like. They are the eyes of men who spent their lives fighting and testing themselves daily with punishing regimes of combat training.
Together they stand; fierce, proud and as strong as ever. They're the last of their kind, a dying breed that sacrificed themselves so that we - the Irish martial artists of today - may enjoy the arts that define us.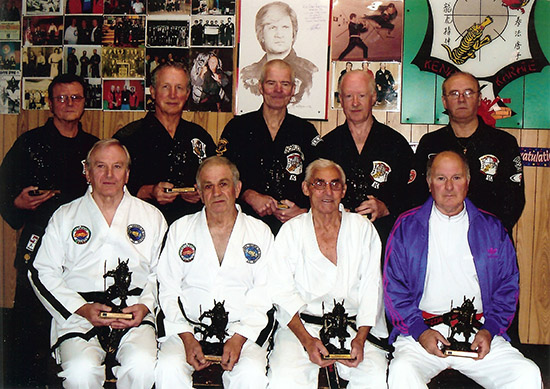 In the newly renovated High Street Kenpo Karate Club (situated in The Liberties, the oldest part of Dublin) stand living legends the first and second generation of Irishmen to receive dan grades in this country - in Kenpo Karate, Shotokan Karate, Wado-Ryu Karate and Taekwon-Do. To these men I feel an overwhelming sense of 'giri' (a concept that was developed by the legendary Samurai class of Japan).
This group in some way remind me of the feudal period of Japan's history. It's of such moral complexity it defies Western translation and for the first time I understand this concept (giri) at its most basic level. The sense of obligation one feels to a debt that can never be repaid.
It's perhaps the most important photograph in Irish martial arts history, the only collective record of the men who gave us the opportunity to train in each of our chosen styles.
Strange, Misunderstood Discipline
The gathering - even celebration - was organised by Master Shay Paget and Master Barney Colman. The image - a tribute to a time before the martial arts craze and the popularity brought about by Bruce Lee - shows the men who began training in what was then a strange, misunderstood discipline, for no reason save the perfection of character. This group of men became the very first black belts, opened the first clubs, and shared with us the passion and love of the arts we now pursue.
For the most part it began with American black belt John Mc Sweeny, who opened the first Kenpo Karate School in Europe, on 26 February, 1963, in Fitzwilliam Street, Dublin. His first student, Tommy Jordan, was followed by Maurice Mahon, James Rice and John Conway (now deceased). This cadre of students blazed a trail the rest of us would later follow.
They developed a reputation for Irish Karateka - strong, tough, hard training men that would stop at nothing less than absolute perfection of their style. In April, 1965 these men set a record by becoming the first Kenpo black belts in Europe, graded by the Kenpo style founder, Grandmaster Ed Parker.
Jordan, Mahon and Conway had taken over the running of the Fitzwilliam Street dojo after John McSweeny decided to return to America in late 1964. Years later, by the 1980s, Grandmaster Parker decided to change the systems so that the focus would include more movements and techniques. Many Irish instructors saw both positive and negative aspects to this. Some choose to follow either the original Kenpo system, as taught by McSweeney, or the new evolving system introduced by Parker.
Same Disciplined Manner
Jordan for his part, focused on the streamlined techniques he had learned from his master McSweeney and became the chief instructor for the Irish Karate Association (IKA) with Peter Coyle as president. Situated in the Rathgar Kenpo Karate Studio, to this day the club still trains in the same disciplined manner as taught by McSweeney and maintains a reputation as one on the strongest Kenpo clubs in Ireland and Eurpoe.
While Jordan maintained his presence at McSweeney's original club and went on to grade his second generation of black belts, Mahon - the youngest Kenpo black belt in Europe at that time - went his own way and in 1967 opened his own club in Harcourt Street, Dublin with Noel Halpin. Just as with Jordan, his was an ethos of hard work and strong performance in order to earn your grade and to honour the art and your master.
The first second generation Kenpo black belt out of Mahon's school was Dubliner Jackie Skelton, who graded in Jersey, The Channel Islands, where Mahon was living and teaching for a period. Other second generation 1st dans included Paget and Colman.
Originally Master Paget kicked-off his martial arts career in August, 1963 in McSweeney's Fitzwilliam Street club. A year later, however, he reluctantly put aside his martial learning and moved to Jersey to work. Returning to Dublin in 1967, he was back in Mahon's Harcourt Street club following his life long goal to obtain his first dan in Kenpo. A year later on 4 June, 1968, he was joined at the club by Colman.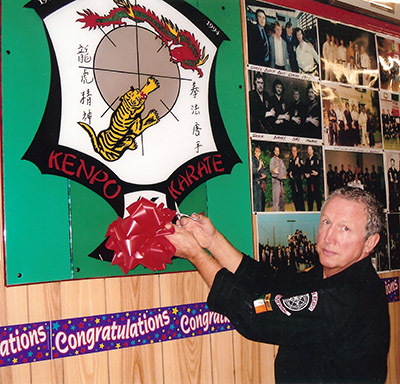 Training and Discipline
At the club Paget and Coleman became good friends and were joined by Richard (Richie) Connor. The three men rose to the rank of brown belts under the guidance of Michael (Mick) Molloy, who ran the club in Mahon's absence when he was in Jersey. Of the trio, Master Paget was the first to obtain his 1st dan under Mahon in 1973. In the first televised black belt grading in Europe, broadcast on a programme called 'Tangents' on RTE, Colman became the second Irish Kenpo black belt in 1974. Connor also tested on the night in Baggot Street Kenpo Karate Club
Both Master Paget and Master Colman paint a picture of true training and discipline, a far cry from the training we have today. Training was hard and for several hours, in stark contrast with the 60-90 minute classes commonly taught today. Master Colman described to me in detail the blistered and bleeding feet frequently encountered while training on the rough rope carpet of the training hall.
Toughened by cold showers and the repetitive striking of concrete blocks until the knuckles bleed they envisioned themselves as warriors training in the true spirit of Kenpo. Today, they run the High Street Kenpo Club originally opened in the early 1970's. More than 30 years later they still train and teach others with the same determination and discipline that characterised the spirit of Kenpo when it was first brought to Ireland by the late McSweeney.
Masters Robert Howard and Liam Dandy, the first Irishmen to achieve black belts in Taekwon-Do, tell a similar story. As I spoke with Master Dandy he recalled the confusion that beset the early martial arts in Ireland. Aside from the early wrestling clubs, such as the Hercules Gym (of which Colman was a member) there were few, if any, true martial arts schools.
Path of the Martial Arts
Master Dandy began his training with men who had returned from abroad with brown belts in Shotokan Karate. There was no real instruction at this time, just willing students developing their skills and discovering through trial and error the path of the martial arts. It was in 1965-1966 that Ireland was visited by Young Wa Kuon and Chang Ho Cho, 3rd and 5th degree Tae-kwon-Do black belts and Master Dandy and Master Howard began their formal training along with Master Frank Matthews.
During their two year stay in Ireland Masters Young Wa Kuon and Chang Ho Cho conducted daily classes in the Korean national art for the first time in Ireland. Like the experience of Masters Paget and Colman, the training was intense and severe. As Master Dandy recalled they trained seven days a week, for hours at a time, under strict military discipline. His instructors, former Korean military, trained them in the fashion they themselves had learned.
After their departure Master Dandy contacted Grandmaster Rhee Ki Ha, who was based in Britain, so that he, and his club mates, could finish their training. As Master Dandy explained, there was no Irish Taekwon-Do organisation, no official body or instructors. However, Grandmaster Rhee, a 9th degree black belt, had begun teaching and organising an official body in Britain, The United Kingdom Taekwon-Do Association (UKTA).
At an international tournament in 1971, competing against members of the British Army, navy and even representatives from Singapore and Korea, the Irish trio of Dandy, Howard and Matthews became the first Irish black belts in Taekwon-Do under Grandmaster Rhee, in front of members of the Korean military and the South Korean Ambassador. A year later in 1972 the Republic of Ireland Taekwon-Do Association (RITA) was founded.
Judo and Jiu-Jitsu
In July 1973, only a few months after the official start of Taekwon-Do in Ireland, Professor George Canning became the first Irish black belt in Wado-Ryu Karate under the legendary Peter Suzuki. Professor Canning was first introduced to the martial arts and unarmed combat during his time in the Royal Engineers from 1959-1965. During this period he studied Boxing, Judo and Jiu-Jitsu. After leaving the British Army he dedicated himself to Wado Ryu and began his formal training in 1963. By 1980 he had become a 5th dan and started to develop his own style, Mugendo.
The same is true for Dubliners George Reilly - who was the first Irishman to obtain 1st dan in Shotokan Karate - and Tommy McGrane, the two men are fundamental to the development of Shotokan Karate in Ireland. Much like Master Dandy's experience, Sensei McGrane began his formal training in 1962 in a club in Mountjoy Square. While there he noticed people practicing Karate but for all he new then it could have been anything. McGrane, however, was no stranger to combat. After leaving the British Army he earned a living as a bare-knuckle Boxer in an English travelling circus, fighting all-comers for a purse. He graded to black belt under Sensei Kato in the Church Street Shotokan Karate Club in 1972.
As I look once more at this group photograph of first and second generation martial artists, and having listened to each of their stories, how they trained in their different styles, what they went through, how they graded, etc. I've discovered that there's a uniting factor. Respect and 'giri'.
Privelege of Learning
In each of these men there is a profound sense of respect for their masters, the men that sacrificed, trained and bleed so that they could pass down their understanding of each of their arts. But more so, there's the deep respect each man has to the art they dedicated their lives to, not just for the power each system has endowed them with, but for the privilege of learning it, of having allowed it to define their lives. And then . . . then there is giri.
Giri, that obligation developed out of sincere gratitude to pass on what they have learned, the hard won lessons of bloody hands and feet, of aching joints and torn muscles. The lesson that many martial artists have yet to learn today. That training isn't about dan grades or even belts, but the knowledge that in dedicating your life to an ideal, a martial art, a philosophy of mind and movement, you become more than just a man. You become a legend.
('Giri' is a Japanese word translated literally means 'right season' or 'a sence of obligation' or 'duty'. When it came to the Samurai concept of duty is very important. Giri is so important that to be accused of failing one's duty is the worst insult imaginable. To actually fail, either deliberately or accidentally, is cause to commit 'seppuku' (ritual suicide) in the hopes that one's death will wipe out the stain of dishonour.)
Reproduced with permission from the 1st March, 2007 quarterly issue of Irish Fighter - Ireland's top selling Martial Arts magazine.For further information about Irish Fighter contact: Rob Corwell, Editor Irish Fighter, P.O. Box 3827, Dublin 7, Ireland. Tel (00 353) 86 2472030 or email: This e-mail address is being protected from spambots. You need JavaScript enabled to view it